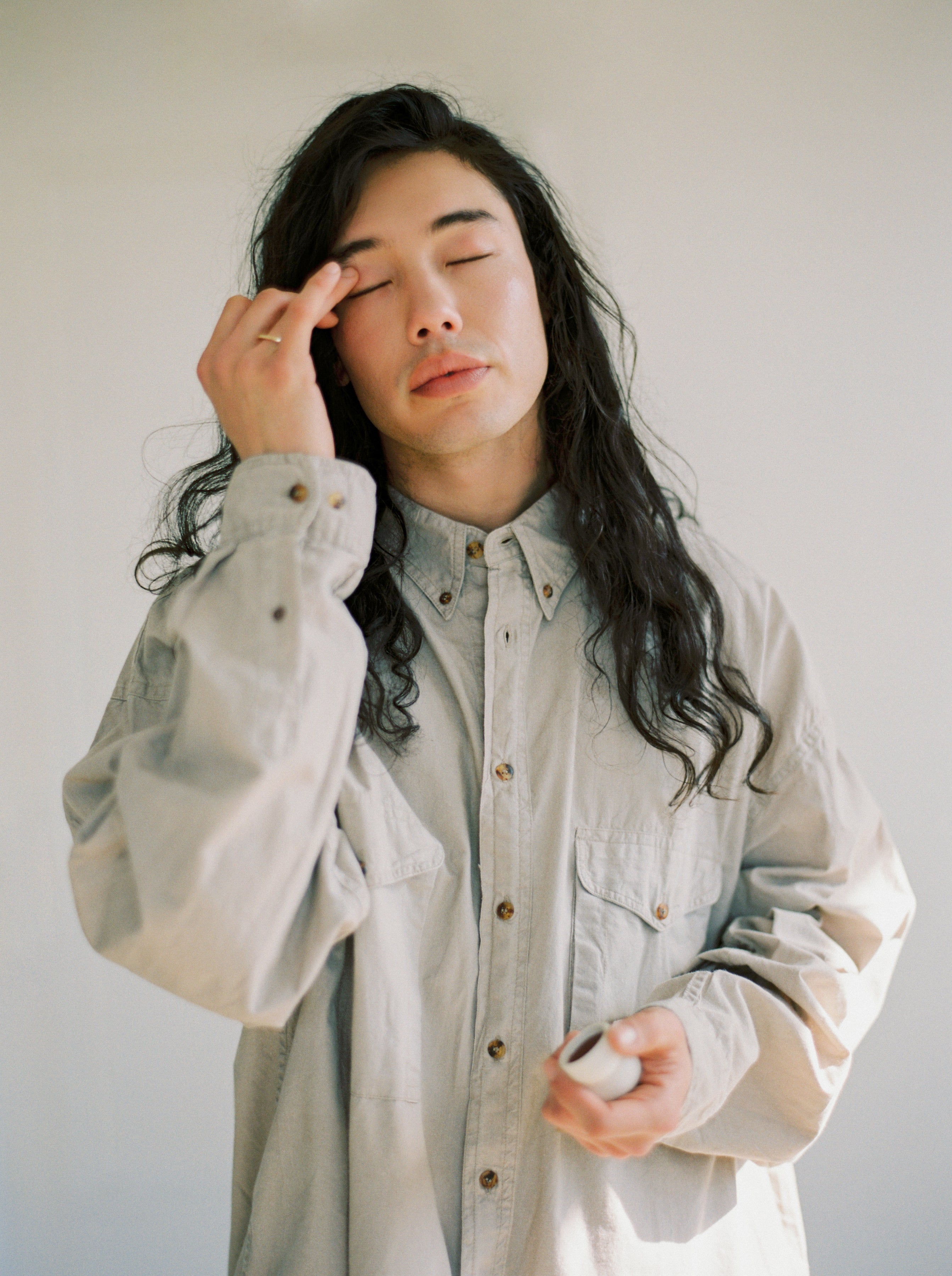 Description
Results
Details

Ingredients
An active treatment to moisturize lips and cheeks with a crimson flush, the Nourishing Rouge Stain penetrates and soothes the driest lips and skin. Its carefully selected raw ingredients support essential healing. 
This organic multi-use formula is rooted in our sixty-day Restorative Botanical Infusion.
Offered in a handcrafted porcelain vessel with a speckled matte almond glaze.
7 mL      0.24 fl oz
Regenerative
Plumping
Emollient
Humectant
Antibacterial
Antimicrobial
Balancing
Antioxidant
7 mL  0.24 fl oz 
ONE OF A KIND
Our objects are handcrafted using natural materials. Each will carry subtle differences in colour, texture, fit, and scent. 
CARE
To maintain product stability, keep away from heat and excess humidity.
PRODUCT LIFE
Use to completion within six months. 
SENSITIVITIES
Suitable for all skin. Plant medicine is strong and interacts differently with each body. If irritation occurs, discontinue use. 
Organic Simmondsia chinensis (Jojoba) oil
Organic Cera alba (Beeswax)
Organic Ricinus communis (Castor seed) oil
Organic Oenothera biennis (Evening primrose) oil 
Organic Calophyllum inophyllum (Tamanu) oil
Organic Hippophae rhamnoides (Sea buckthorn) oil 
Organic Matricaria recutita (Chamomile flowers) 
Organic Rosa damascena (Rose petals)
Organic Calendula officinalis (Calendula flowers)
Organic Plantago lanceolata (Plantain leaf)
Organic Rosa canina (Rose hip seed)
CI 75470 (Carmine)
Formulated without essential oils, sulphates, parabens, phthalates, synthetic fragrance, petroleum, preservatives, or fillers.
TESTIMONIALS
"It feels like silk on my lips."
Allie Huybers
"The quality of this stain is amazing. It's the perfect shade."
Semegn Atkinson
"My lips aren't left needing more."
Stephanie Jaivet
APPLICATIONS
Stain Lips
Scrape the treatment from the vessel with the back of your nail and rub between your pointer fingers to warm. Once evenly melted, dab onto your lips with the pad of your finger for a diffused look. Layer over our Ceremonial Protection Treatment for subtle colour or use alone for a buildable pigmented stain. Can be worn as a gloss or blotted for a matte finish.
Flush Cheeks
Scrape the treatment from the vessel with your nail and warm between your pointer fingers. Gently press and feather the stain onto your cheeks for buildable colour and illumination.
Nail Care
Gently brush the stain along the surface of your nail bed with the pad of your finger for a hint of natural nail colour and to promote healthy nail growth and moisturize cuticles.
Blush Eyelids
Scrape the treatment from the vessel with your nail and warm between your pointer fingers. Gently press and feather the stain over the eyelids.
FORMULA
Our formulas are rooted in our Restorative Botanical Infusion. It includes five of nature's most soothing botanicals: rose, chamomile, rose hip, plantain, and calendula. Prepared in small batches and blended by hand, it is steeped for sixty days for maximum botanical extraction. 

Each organic ingredient works symbiotically to calm inflammation, heal microabrasions, and settle dryness while protecting against future environmental damage.

Our exquisite beeswax serves as a vital base to each of our formulas. It provides the unparalleled staying power of our Ceremonial Protection Treatment and Nourishing Rouge Stain. A highly effective humectant that seals in moisture while still allowing your skin to breathe, beeswax is naturally antibacterial, antiviral, and antifungal to protect you from environmental irritants. It also acts as a natural stabilizer in our formulas.

The botanicals and beeswax blend to create a subtle natural scent with herbaceous undertones, much like a summer afternoon.